If you're still searching for the right air conditioning unit for you or wish to upgrade your HVAC system, look no further than Midea air conditioners. This award-winning brand offers some of the most efficient and cutting-edge air conditioning units on the market. So, if you're looking for a cost-effective product and wish to invest in a trustworthy brand, Midea is the choice for you!
We've put together a list of reasons why you should choose Midea:
1. A+++ Energy Efficiency – Reduce bills up to 71%
An air conditioning unit with a good efficiency rating makes all the difference! Not only does this ensure that your HVAC system is eco-friendly but keeps your energy bills reasonably low. It's truly a win-win situation.
Most of Midea's A+++ air conditioners consume up to 60% less electricity thanks to their SmartSavE Technology with state-of-the-art inverter compressor. Midea's Xtreme SavE range takes efficiency to the next level.
It's capable of keeping you cool for over 8 hours whilst consuming just 1 kWh of energy, saving you up to 71% on electric bills!
2. Deeper & Easier Cleaning – Get it done with less procrastination
With a minimal structure that is easy to dissemble, Midea air conditioners are super easy to clean, guaranteeing healthier and cleaner air.
The convenient detachable fan wheel on the All Easy Pro range gives you 50% more cleaning access. It only takes 1 minute to dissemble the inside fan, allowing you to deep clean both the fan and the heat exchanger in mere minutes.
The Xtreme Save range even includes a deep self-cleaning function. A step-up from the typical self-cleaning mode, the sterilisation mode on the Xtreme Save warms the heat exchanger to 56°C for 30 minutes. This destroys up to 99.9% of the bacteria after only two cycles of use!
3. Fast Performance – Regulate the temperature in seconds
As Midea air conditioners are extremely efficient, they always offer incredibly fast results!
Generating a 3D air flow and sporting a cutting-edge 'flash cooling' function, Midea air conditioners can regulate the temperature of any room in seconds.
Whether you need refreshing cool air to get you through the summer months or cosy heated air in winter, Midea guarantees your comfort in a flash.
4. Extremely Silent – Sleep peacefully through the night
With Midea air conditioners, you no longer have to choose between a noisy, air-conditioned room and a peaceful but uncomfortable environment. In fact, this brand's efficient units boast powerful heating and cooling capabilities that operate in serene silence.
Finally, you may indulge in the ideal space where you may relax or work free from noisy distractions.
5. Competitive Prices – Without compromising on quality
Midea's HVAC systems are not only energy-efficient but are sold at competitive prices that won't put a large dent in your wallet. When compared with competing brands, Midea offers highly affordable products without compromising on quality and innovation, starting from JUST €545.
Additionally, you will also benefit from a 7-year warranty ensuring your continued peace-of-mind.
6. Air Magic Purifier Technology – Breathe fresher air
As a brand, Midea invests a lot in new advancements. In fact, the newest units by Midea have officially pushed the boundaries of what air conditioning systems can achieve! Introducing a revolutionary 'air magic add-on' function, Midea's PLUS ranges don't just regulate temperature but also transform your AC into a two-in-one air purifier.
To ensure that each breath you take is clean, fresh, and healthy, the 'Air Magic' built-in device generates ions to remove airborne bacteria and dust. You can actually feel the difference.
7. Eurovent Certified – A guarantee of excellence
Established in 1993, Eurovent Certita Certification is a global leader in "the field of third-party product performance certification for heating, ventilation, air conditioning and refrigeration products".
Midea was awarded a Eurovent certification, so you can be 100% certain that they meet the highest international standards and that the unit does what it says on the product brochure and operations manual.
8. Award Winning – World's No.1 air conditioning brand
Considering all of these perks, it is not surprising that each year Midea wins over 40 awards at various global design shows, including Red Dot, iF, and Good Design Awards.
The strong vision founded on innovation, quality and design have made Midea the world's No. 1 air conditioning brand, and China's top export corporation.
In fact, it is the chosen brand of over 35% of air conditioner owners around the world, which means that Midea air conditioners cool and heat over 2.7 billion households globally.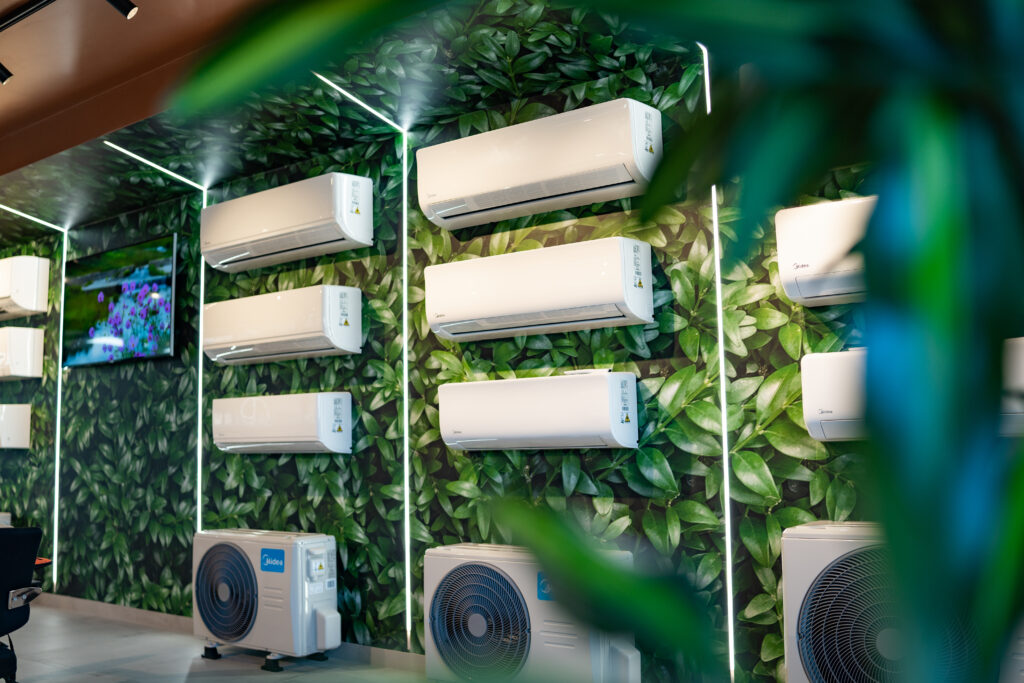 ---
Kencar is the authorised distributor in Malta for Midea air conditioners. Browse all the Midea wall-mounted units by clicking here.
Get in touch with the Kencar team at [email protected] or +356 2138 2091.